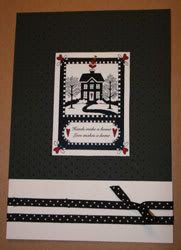 Here is one card idea with two different layouts and sizes. Graphics are by Laurie Furnell from pccrafter.com. The first card is 5 1/2 " x 8". Dotted Swiss Cuttlebug embossed black background is mounted on white cardstock. Two strips of black and white ribbon was added to the bottom.

The second verision, 5 1/2" x 4 1/4", is embossed swirl background. A metal heart charm was threaded onto a single loop bow.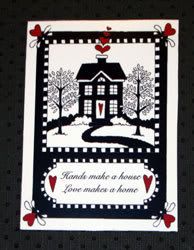 Both cards were given a faux flocking to the background. Giving both cards an antique feel.